I am not a foodie.  In fact, eating is a nuisance and I'd be really happy to just have an IV once a day to get nutrients.  I don't enjoy cooking or doing dishes or shopping for food.
The only thing I LOVE about going to artists colonies is being FED.  Even if the food is HORRIBLE, I'm intensely grateful for it because I didn't have to deal with any aspect of it other than eating it and possibly complaining about it.  (My Yaddo Movie)
I do like some food.  Apple turnovers for example. Ethiopian food.  Almost all the food in Italy and all the produce sold in the medina in Tangier, Morocco.
Also, I'm a vegetarian. And I'm allergic to garlic.  And I don't really eat bread.
I'm basically like a really fussy toddler. You probably do NOT want to invite me over for dinner.
But I have a new friend, Laura the Hot Farmer: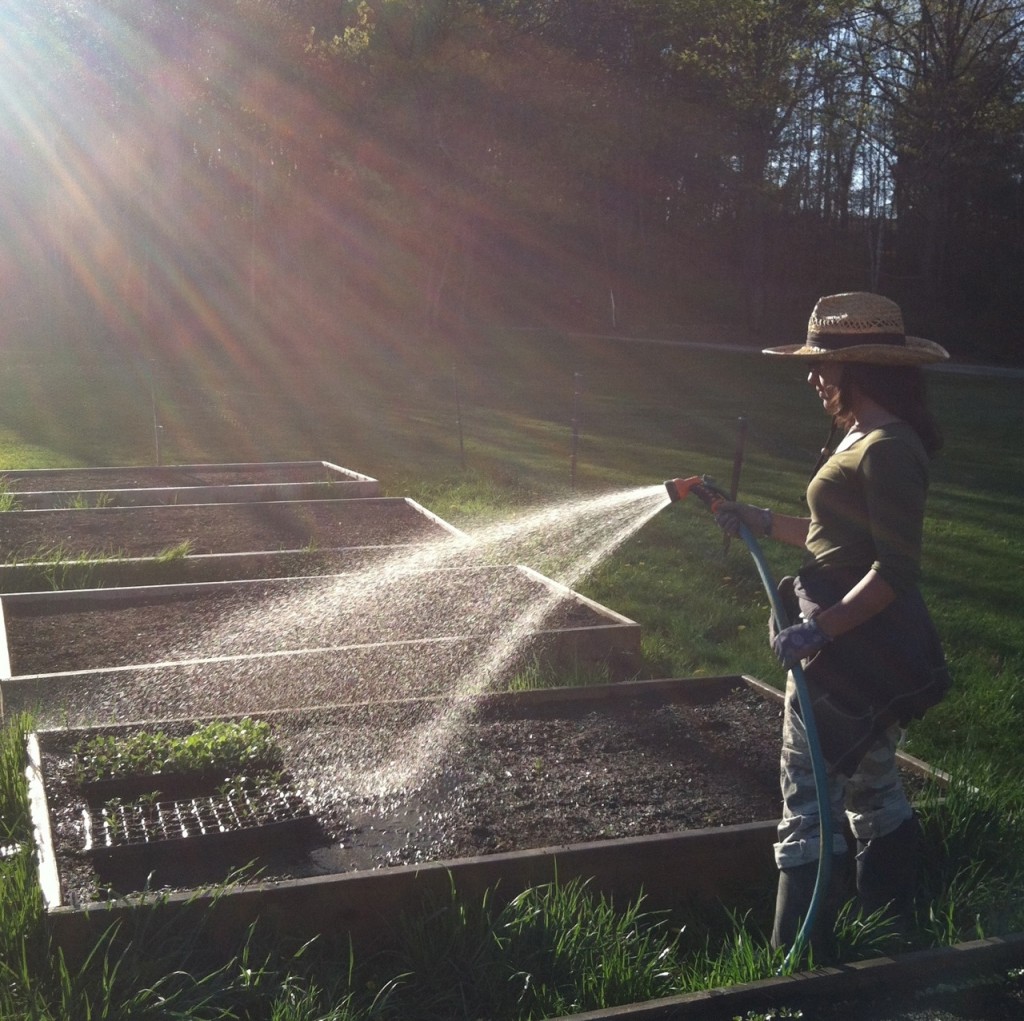 Laura is all about food.  She is a chef and her husband, Dave, who she met at chef school, is also a chef.  Together, they run a popular Brooklyn restaurant, Applewood.
Laura and Dave and their two daughters now live upstate and grow their own food. And I don't just mean vegetables.  Here is Laura's blog about the life of a Hot Farmer.
Laura and Dave have some land and a red barn-looking house pictured here with Chimney the Gnome in foreground: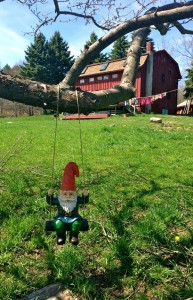 They also have two delightful pit mix dogs, a bunch of chickens and cats, an extremely pregnant goat named Cindy, and, as of this writing, two piglets named Pig and Other Pig: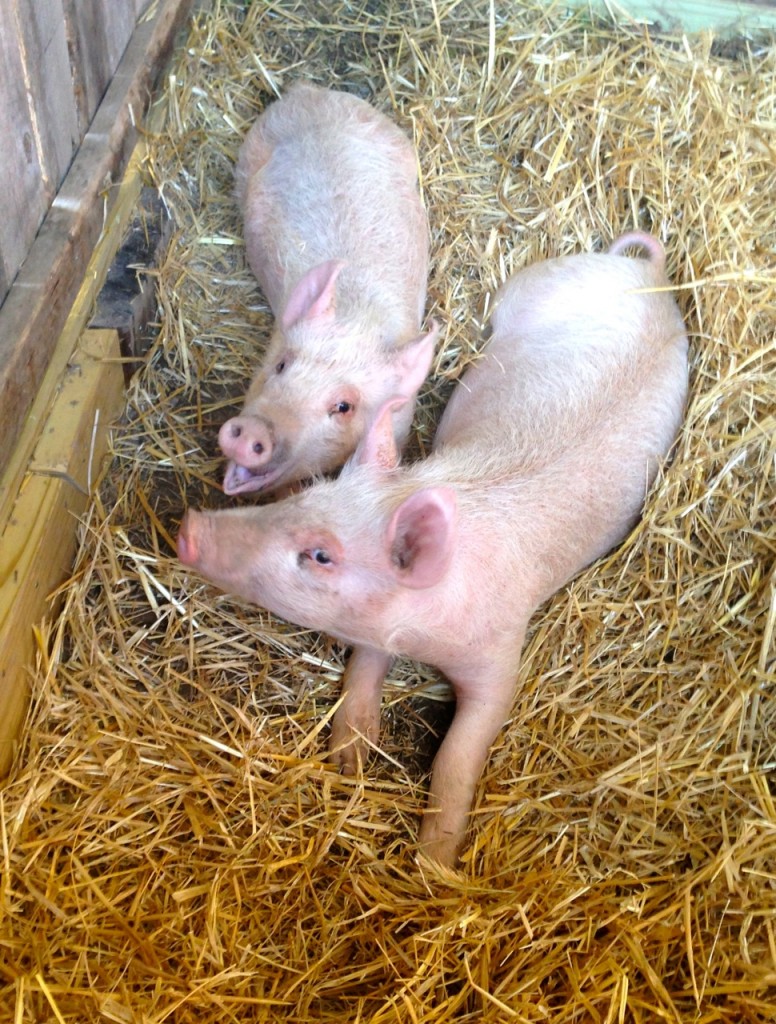 If those don't seem like the most enchanting names for pigs, it's because the family does not wish to REALLY name the pigs as they are going to EAT THE PIGS.
My vegetarianism started when I was 15-years-old.   I had never really enjoyed meat anyway and then I became smitten with a vegetarian horse thief in Georgia (the state, not the country). After making out with the vegetarian horse thief, I pronounced myself vegetarian and that was that. A little later in life,  I continued being vegetarian for ethical reasons.
Laura the Hot Farmer points out that eating animals  is a long discussion.  That, basically, cows and chickens and pigs as we know them (as opposed to wild boars etc) wouldn't be around if humans hadn't raised them for food.  She also points out the difference between eating one of her own pigs, killed with one quick gunshot to the back of the head, and eating some pig that was killed in a slaughterhouse (even organic, free range, etc livestock is killed in a slaughterhouse, has to be to comply with FDA regulations in order to be sold to the public).
"There is no taste of fear in the meat."  Laura says of eating the animals she raises.
I personally don't wish to taste ANYTHING in meat, so I don't eat it.  All the same, I have tremendous admiration for what Laura the Hot Farmer is doing.  She is completely conscious of what she eats, having known it it since it was a small piglet or chick or plant (I thinks she eats some beef she's never met but only if its been vouched for by someone who HAS met it).
Maybe if I grew my own rice and beans and tofu and vegetables, they would taste better and I'd enjoy cooking them and putting them in my body.
Maybe it's time to become a Hot Farmer.