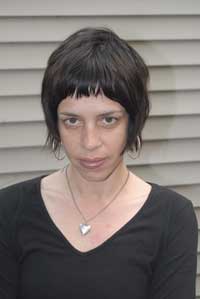 Maggie Estep grew up moving throughout the US and France with her nomadic horse trainer parents. She attended the Jack Kerouac School of Disembodied Poetics in Boulder, Co. and received a B.A. in Literature from The State University of New York.
Before publishing her first novel, Maggie worked as a horse groom, a go-go dancer, a dishwasher, a nurse's aide, and a box factory worker. Maggie has published seven books, DIARY OF AN EMOTIONAL IDIOT (Harmony Books 1997, Soft Skull 2003) SOFT MANIACS (Simon and Schuster 1999) LOVE DANCE OF THE MECHANICAL ANIMALS (Three Rivers Press 2003) HEX (Three Rivers Press 2003) GARGANTUAN (Three Rivers Press 2004) FLAMETHROWER (Three Rivers Press 2006) and ALICE FANTASTIC (Akashic Books 2009). HEX, the first book in Maggie's trilogy of crime novels, was chosen by the New York Times as a notable book of 2003.
Maggie has recorded two spoken word CD's, NO MORE MR. NICE GIRL (Nuyo Records 1994) and LOVE IS A DOG FROM HELL (Mercury Records 1997).
She has given readings of her work at cafes, clubs, and colleges throughout the US and Europe and has also performed her work on The Charlie Rose Show, MTV, PBS, and HBO's "Def Poetry Jam". Her writing has appeared in The New York Post, Self Magazine, Village Voice, New York Press, Harpers Bazaar, Spin, and Nerve.com, as well as in dozens of anthologies including but not limited to BROOKLYN NOIR, THE BEST AMERICAN EROTICA, and HARD BOILED BROOKLYN.
She is currently at work on The Story of Giants.
Maggie lives in upstate New York.